Click on the arrows for more fun photos
Laura and Robert Sams Pose During Author Visit
This school had a pirate-themed reading month, complete with pirate ships full of reading goals.
Fish School Decoration
We may all be different fish, but in this school we swim together.
Take a Bite Out of A Good Book
Welcome Sisbro
Jacob Wismer Elementary welcomed Sisbro with this shark-themed poster.
Beware of Dog Shark
This therapy dog joined an assembly during Sisbro's Shark Riddle presentation.
Shark Bulletin Board
This school decorated their hallways with kid-made sharks.
Basking Shark in Alaska
Laura and Robert took their shark presentation to libraries in Anchorage, Alaska.
Pirate Cinquain
This school in Pennsylvania wrote poetry based on A Pirate's Quest.
Riddles in Bottles
Children brought lots of riddles in bottles for Laura and Robert during their visit.
Shiver Me Timbers
Kids decorated a pirate-themed bulletin board for pirate reading month.
Welcome Riddle Solvers
This library in Oregon welcomed Laura and Robert with a banner.
Library Shark
Children investigate a life sized shark in their library.
Basking Shark Mouth
Children peer into the mouth of Sisbro's inflatable basking shark.
Shark Diorama
This library had children create shark dioramas for Sisbro's visit.
Sharks Are Jawsome
A Shark Report inspired by The Shark Riddle
Shark Riddle Door
Laura Sams stands next to a door decorated like The Shark Riddle
Amazing Sharks
Laura and Robert stand next to a bulletin board that made a shark tooth banner from their Shark Packet of ideas
Basking Shark Size
Kindergarten children stand next to Sisbro's inflatable basking shark.
Lady Pirates
Children turned into pirates for pirate reading month
Marrrrrch is Reading Month
A school's welcome banner for their pirate-themed reading month based on A Pirate's Quest
Pirate Jokes
This school had a whole bulletin board of pirate jokes for reading month.
Pirate Skeletons Like To Read
This skeletons hold childrens' favorite books during pirate reading month
Wanted for Reading A Lot
This school decorated their lockers for Sisbro's author visit
Classroom Flags
This school made pirate flags for every classroom during reading month
Pirate Teachers
These teachers dressed up for Sisbro's author visit!
Riddles in Bottles Bulletin Board
Students wrote riddles, just like The Riddle in a Bottle
Balloon Pirate
This teacher had a pirate balloon during Sisbro's author visit
Sharks in the Snow
This school made shark fins from the Shark Packet for Sisbro's visit
Submarine Kids
This school greeted Sisbro with ocean decorations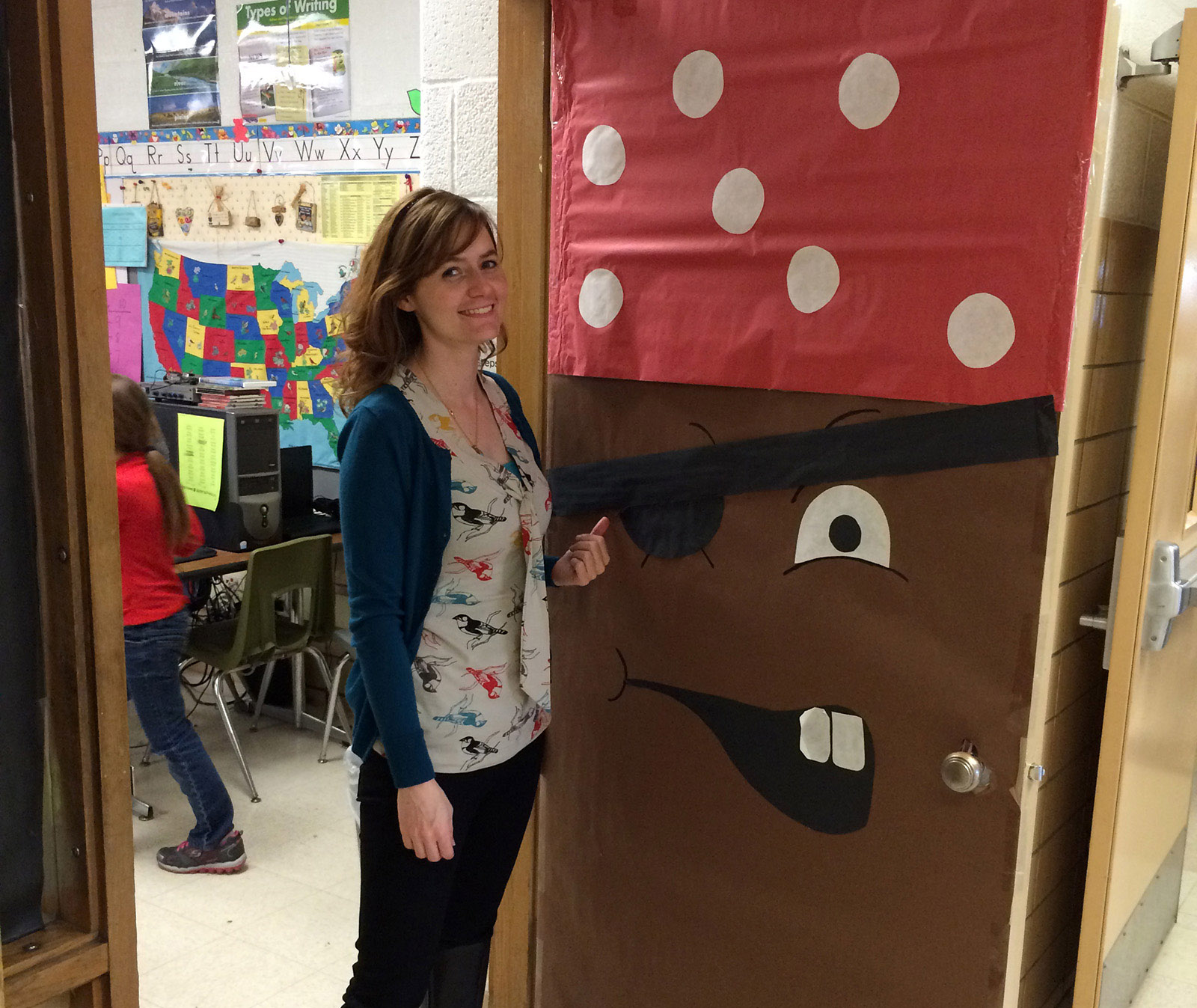 Pirate Door
Laura stands next to a door decorated for Sisbro's visit
Welcome Sisbro
Laura and Robert stand next to a welcome flag at a school
Ladybug Bulletin Board
A bulletin board filled with animals from the In the Woods series
Pirate Hooks
This Pennsylvania school greeted Laura and Robert with hooks made from cups and aluminum foil
Owl Bulletin Board
A fun bulletin board based on the In the Woods series
Pirate Masks
This class greeted Sisbro with their own pirate faces
A Pirate's Quest Bulletin Board
Inflatable Basking Shark
Laura and Robert stand with their basking shark at the Hatfield Marine Science Center
Are You A Shark
A bulletin board based on the Are You A Shark game show from The Shark Riddle
Shark Riddle Tellers
Kids in Alaska made shark riddle tellers from The Shark Packet
Seattle Aquarium
Laura and Robert perform at The Seattle Aquarium during their shark days